Smart Phone Repair Services
---
The first step in every Smart Phone Repair Service is a free diagnostic evaluation. To determine what is damaged or malfunctioning, a technician will analyze the Smart Phone's operation and look for damage during this process. Once the problem has been identified, the technician can design a repair strategy, and the customer can then choose whether to proceed with the Smart Phone Repair Services or not. Most repairs, like repairing a Smart Phone Screen, can be finished in under an hour once we have identified the problem. We can start the repair while you wait. We offer the best reliable Smart Phone Repair Services Near you.
Fast & accurate
Diagnostic
limited life time
Warranty
One-stop-shop for
all device needs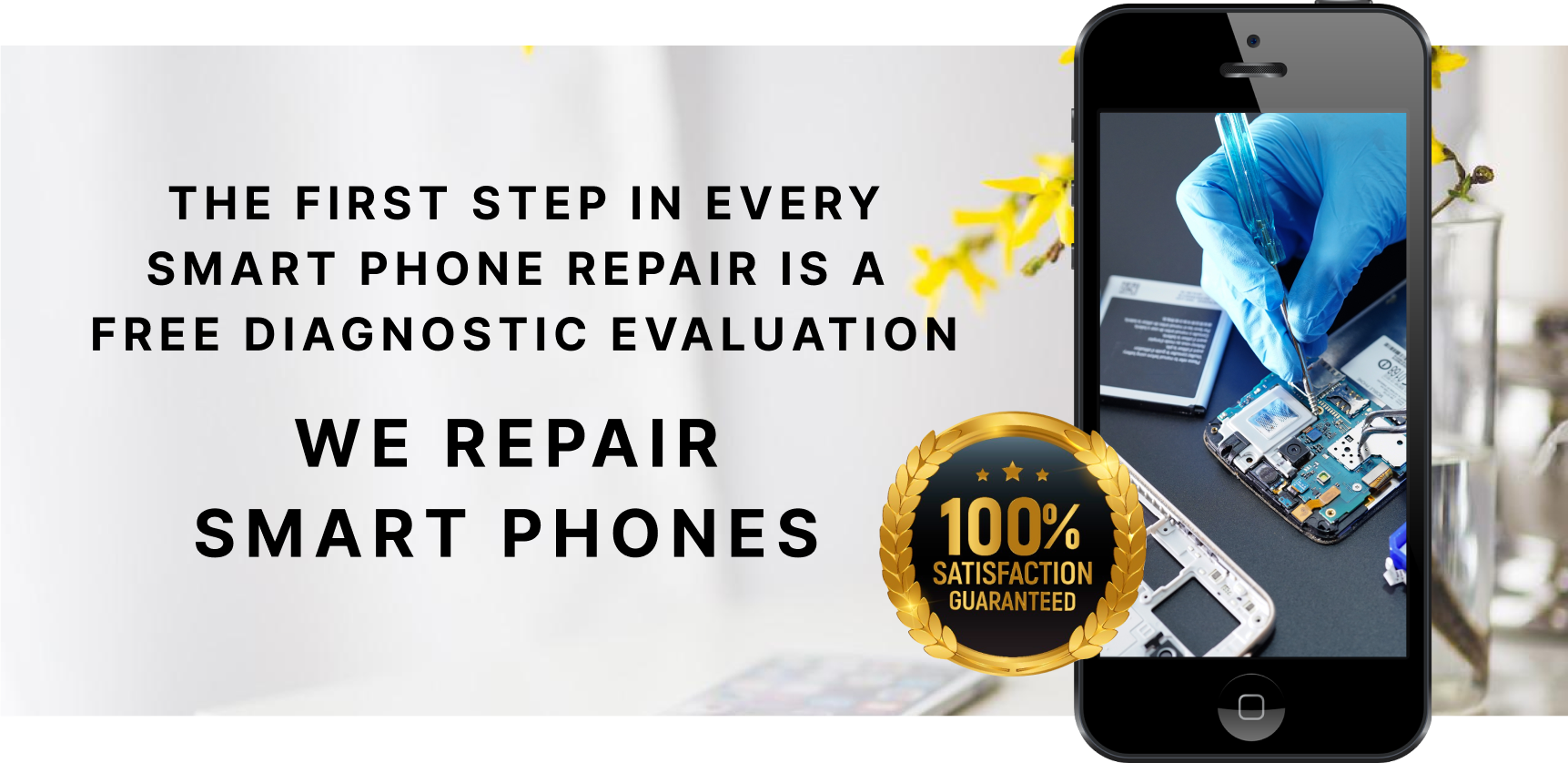 ➜

Can you Repair my Smart Phone's Screen Touch? It doesn't work.

Yes, the screen is usually the problem, and a SmartPhone Screen Replacement can solve the problem. Sometimes all the phone needs is a battery pull reset, and in extremely rare cases, the touch chip may need to be changed. Depending on the model, we may only need to swap out the digitizer glass when a screen is cracked, but if the condition is severe, we may also need to swap out the LCD. We provide each of these services.
➜

How long does it take to replace a cracked screen on a smartphone?

In most cases, repairing a smart phone screen takes less than an hour. Depending on the nature of the issue, it can take longer than expected. Therefore, to save time, we advise calling ahead to find out how busy we are.
➜

Is it possible to replace the battery in my smartphone?

Yes, we do battery replacements for all models of smartphones. We have years of experience changing many types of phone batteries. Therefore, instead of throwing away your phone because it isn't holding a charge, just buy a new battery to restore it to working order.
➜

What should I do if my Smart Phone won't turn on (has no power)?

Bring your Smart Phone to us; it might just need a new battery, a charger, or a Screen Replacement. Sometimes there may be a board issue, however, we will diagnose the phone for free and inform you of the issue so you can decide whether to proceed or not.

Call us at (416) 335-4777 or send an email to info@techtitans.ca, and a member of our staff with many years of experience will respond to you right away. We offer a variety of phone repair services and are constantly prepared to offer you the right help, taking into account your requirements and financial situation. To ensure that consumers stay with Tech titans, we strive to give them an experience that is unmatched by other phone repair service providers. To learn more, get in touch with us right away.